When looking through the pet supplies dropshipping industry, you may think that it's already saturated and full of competition, but let me tell you that pet supplies e-commerce may be one of the best places to start/expand your online shop. 
Not only is it a low-cost, low-risk venture, but it also gives a huge advantage when it comes to successfully targeting niche audiences.
Overview
To better understand how profitable the Pet supplies industry may be, let me take you through some impressive numbers. 
For the past 2 decades, due to Increasing humanization and the growing population of pets worldwide, the whole Pet Care market's value has peaked at a global level, reaching $223 billion in 2019. With the expected 5.9% growth at a compound annual growth rate (CAGR) for the next 6 years, it is estimated that market value will reach $327.7 billion by 2026.
Giving this data, industry analysts forecast shows that e-commerce will become the top retail sales channel for pet supplies products.
In 2019, the Global pet care e-commerce market size was valued at $20.75 billion, and considering growth at a CAGR of 11.3% from 2020 to 2027, it will reach $54.95 billion. 
The "pet-parenting" doubled for the last 10 years, and around 57 per cent of consumers own pets (according to GfK), with more than 33% of people worldwide living with a dog and over 23% – with a cat. 
Only In the USA, 85 million families (68% of total households) own at least 1 pet, spending more and more on their care/products, from food to clothing. The same number of households (85 million) are pet-owners in Europe, where cats are more popular than the dog-lover USA. In 2019, the population of pet cats in Europe was over 106 million. Germany and France were the two countries where the number of cats was the highest.
Surge for adoption and fostering resulted in huge spendings on basic needs and well-being, gifts, and fun for the pets.
In 2018 Europe dominated the e-commerce pet stores care market with its 30% share, followed by North America and Asia pacific. But by 2019, North America Replaced Europe and gained a 37.5% share, becoming the largest market.  

Is the pet supply dropshipping a good idea?
Well, yes!  It is not only profitable but thriving! And here is why;
Although the pet supplies industry has some big players like PetSmart, PetCo, and even Amazon – you should not back up. These large pet supplies retailers' target audience is the same old demographics: baby boomers, with more disposable income than the average millennials (who, according to the latest data, have become the main pet-parents worldwide). 
When it comes to pet supplies dropshipping, costs are typically low. It is very convenient to purchase pet toys, food and treats, collars, and other accessories/gadgets at reduced costs from dropshipping suppliers, giving you an advantage over bigger players if you go after more niche audiences that are not willing to spend so much on Amazon, or any other giant pet supplies retailer. 
A huge variety of pet supplies products to choose from for dropshipping:  foods, cleaning products online, toys, pet accessories, pet dietary supplements, and pet medical care products. 
While retail stores have seen a slow increase in buying, the online pet market has almost quadrupled for 6-7 years.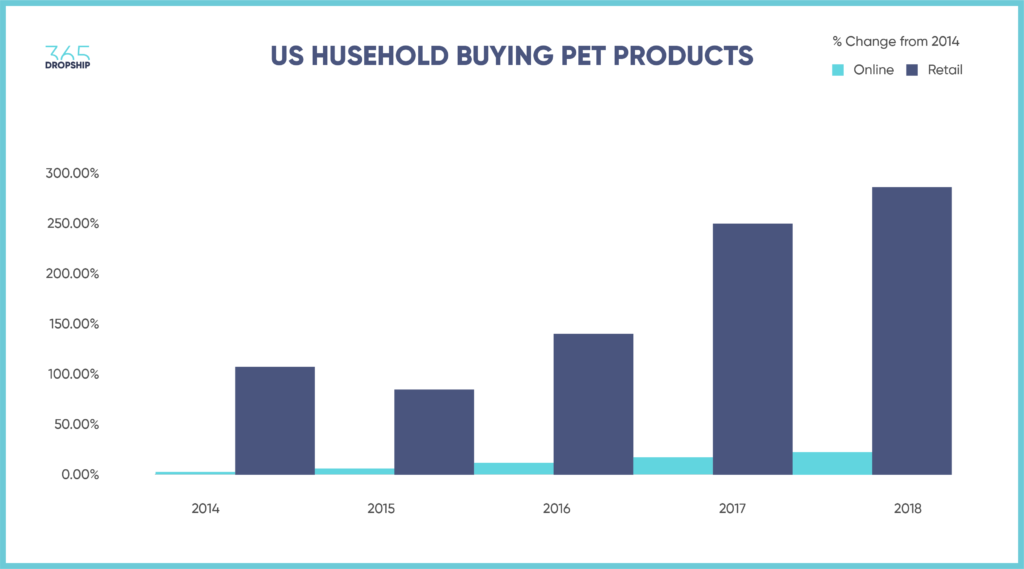 Due to the preference of the customers to buy pet supplies online, the sector is estimated to grow at 9,4%, leaving enough room for maturing and giving a good opportunity for pet products dropshipping; as Pet Care ranked the fastest-growing online category, it became one of those products that people buy no matter what is going on with the economy. 
The interesting reason why this became profitable is because of changes in culture: 44% of millennials, unwilling to deal with children, switched their attention to living with pets. Thus pet spendings went up substantially as they have fewer children in the house, according to the Bureau of Labor Statistics. And for those pet-owning households, pets have really become full-fledged members of the family. According to another APPA survey, 90% said that pets are family. Admittedly that was a self-selected group to survey, but you get the idea…
As mentioned above, Globally, the market size will surpass 327.7 billion by 2026, including products and services. Taking a bite from this huge industry should make up your mind to take advantage of this booming market if you are still hesitating to start Pet Supplies dropship.
The main idea is to choose a product that will sell fast and will be profitable. The incredible thing about pet supplies is that a significant number of the items are ideal for Dropshipping.
Covid-19 and Pet products market
During the pandemic, people were stocking up on essentials, not only for themselves but also for their pets. According to data from Slackline, ShipHero, and Attentive, pet revenue has seen drastic growth during the pandemic period, rising by 63%. These pet foods have shown the highest growth, at around 160% each for cats and dogs.  
Lockdowns motivated People to spend more time with their pets, resulting in high demand for food and basic care and other pet supply products like toys and treats.  
It is also true that demand for Pet Food eCommerce was there, even before COVID-19 lockdowns – Pet food was already experiencing an online boom with growing by 53% year-over-year compared to brick-and-mortar growth of 0.7%. But of course, Covid-19 put its mark anyway –  "from February to March 2020, online pet food sales jumped US$281 million, more than 51%.
Subscription purchases of pet food also increased 28% from February to March," says Debbie Phillips Donaldson of PetFoodIndustry.com. As she mentioned:  "In just one month, The race to meet consumer demand has opened up big opportunities for both established retailers and DTC challengers alike."
Popular Pet Supply Products and Sub-niches for dropshipping
If you are an owner online store, experienced drop shipper, or thriving eCommerce entrepreneur, you should know that most of the sales online are made for pet food/treats, collars, clothes, toys, and, as experts are forecasting – gadgets for pets. 
Pet food and pet supplies are the second and third biggest e-commerce CPG categories across the industry. The promise of prosperity is acutely high within the natural foods, animal care, and supply sectors.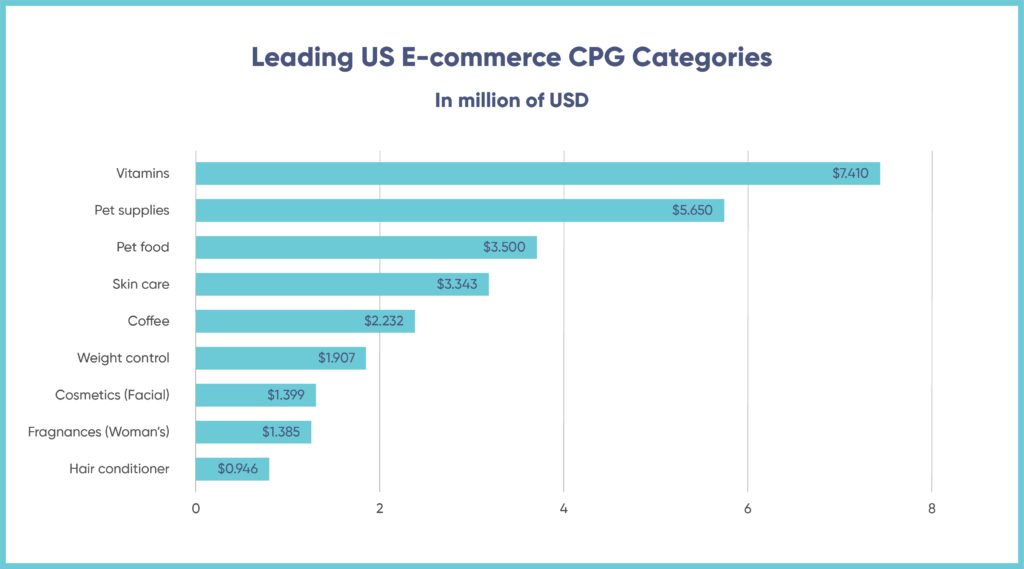 Phillip Cooper, a pet industry expert who has consulted for some of the best and biggest pet industry leaders, talked about fastest-growing pet businesses, taking advantage of these trends:
Pet Food
In March 2020, Compared to last year's same period, both dog and cat food sales had significant growth, from 37.5% to  54.7% for dog food, from 38.7% to 52.8% for cat food. 
Moreover – Pet food is almost as diverse as human food, which means that you can niche down your offerings according to your brand image. It can be a naturalistic or environmental brand,  organic pet food, health-centric brand… or you may offer special diet pet food.
Besides the traditional pet food on the market for years, consumers – after becoming more aware of their own healthy diets – switched to pets and started to choose the food according to healthier ingredients and macro/micronutrients. They are oriented to more fresh, frozen, and made-to-order diets for their pets. These products are more expensive, but consumers are trading up. 
Pet food expenditures continue to be the top reason for dollars spent in the industry, with premium dog food leading, followed by natural and generic food. The segment of pet food is estimated to have a growth rate of around 5.3% through 2026. 
Online sales of dog and cat food alone reached nearly U.S.$9 billion in 2018 and now have a 10 percent share of global sales.
Also, pet owners are becoming more aware of the benefits of a protein-rich diet, that is known to increase muscle mass & strength, have higher satiety, and help pets to avoid obesity (that is a growing problem in the USA, not only among people), maintaining the ideal body condition. These factors are contributing to the segment growth. 
As protein has an ability to repair tissues and muscles, which is well known to be essential for body functioning, many manufacturers now pay attention to a High protein diet, resulting in brands and retailers to incorporate formulas that highlight the sources of protein in pet food, together with quality and quantity.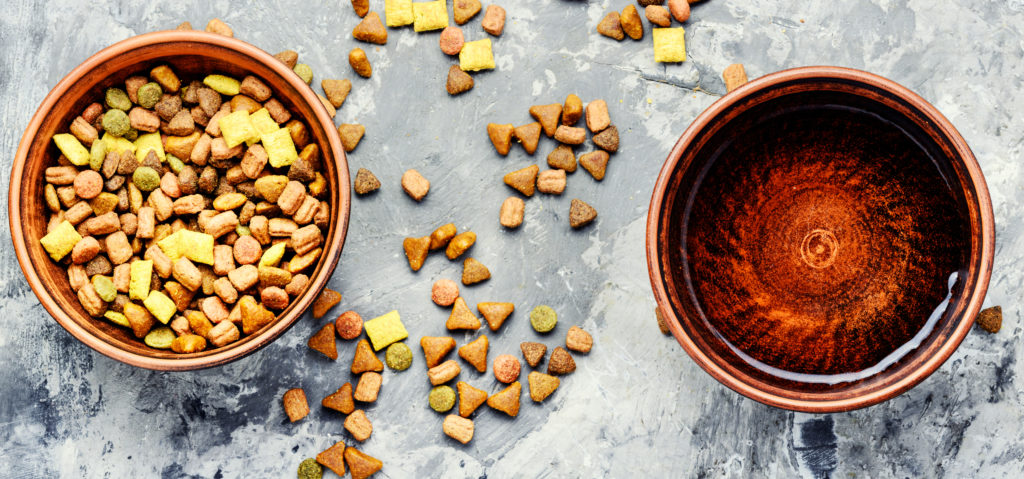 And for the simple reason, that pet food needs to be bought periodically, it makes a perfect addition to subscription boxes or services.
So, pet food is one of 2021's most lucrative eCommerce niches, especially natural pet care products.
In 2018, the United States had the highest average per capita per food consumption (18 lb), being the major revenue generated country in the world.
This is one of the main reasons why pet supplies stores continue to grow rapidly – as they can bring many of these necessities to the convenience of pet owners. According to another survey from Packaged Facts, "people who purchased higher-priced pet food, particularly dog food, tend to be more likely to purchase online." 
Where pet food is selling worldwide –  North America leads in dog food selling, but as it appears, Asia-Pacific is the next frontier.
According to Euromonitor, absolute sales of dog food in the Asia Pacific will increase nearly U.S.$4 billion through 2023,  and the U.S.$7 billion for the entire rest of the world. 
Cat food sales, is more or less the same in  North America, Western Europe, and the remainder of the world and is expected to grow in Latin America through 2023, but not quite as strong as Asia at $2 billion, compared to about.$3 billion for the rest of the world outside those two regions.
As for retail channels, e-commerce has enjoyed the highest growth by a large margin (more than 25 percent CAGR from 2013-2018, compared to less than 5 percent CAGR for each of the other channels: warehouse clubs, variety stores, chemists/pharmacies, pet superstores, and pet shops). 

Pet Treats
Pet parents treat pets like children, and children love treats, so there is an increase in demand for all the different kinds, following the same trends as pet food. Also, Pets deserve treats. 
Since pets are millennials, four-legged children deserve all the same treatment other family members get, including gifts. 51% of millennials buy treats and gifts for their pets once a month or even more. 
They celebrate holidays, birthdays, or just any day with their pets, and as it was expected, pet-parents also like to purchase pet-themed items for themselves. 
Some 83% of millennials buy cat or dog-related merchandise, including t-shirts and much other clothing with pet pictures, also mugs/cups, signs, stationery, welcome mats, etc. and pet-themed clothing is not the limit – millennials are going even further, buying clothing that has special carriers for their pets, such as pet-pouch hoodies and slings. 
Pet Collars
Even before food, there should be collars probably, because it's the first thing that comes to a pet parent's mind when a new furry family member enters their home. Collars are both useful and fashionable.  It may be just an accessory or safety tool (electronic or even the ones that are visible in the dark).  
Collars are beneficial for cat owners, too, as many people let the pet outside. They help to distinguish them from stray animals. Besides, certain collar types work as repellents against fleas. 
Pet fashion
Buying clothes for pets is increasingly popular and fun among millennials ( 60%), saying they are likely to buy dresses, pajamas, coats, hoodies, and other fashion items for their pets.
 As Halloween is almost here, pets are getting involved in the trick-or-treat action as well. This year's trend is to dress up as a group of characters from favorite movies, shows, or stories and include pets into the fun; families furry friends can become everything, from Harry Potter to Darth Vader. 
Of the more than 175 million Americans that are going to celebrate Halloween (no matter the Pandemic situation this year), nearly 20% will dress their pets for trick-or-treating, according to the National Retail Federation.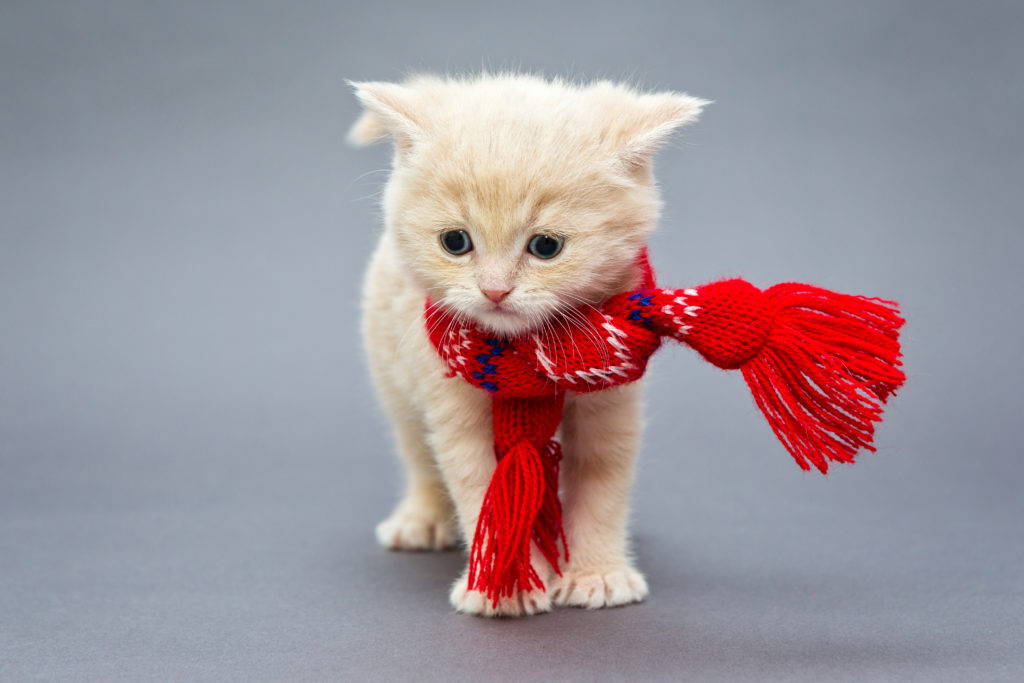 Pet Beds
You cannot overlook this category if you are looking for the best pet products for dropshipping pet supplies.
The fact that pets became more like children, no pet-parent wants their precious furry friend to sleep on just a faded, overused pillow (or the cardboard). Pet beds have been so trendy that even the submarket of "novelty beds" was created. Modern beds have every possible color, shape, and theme. 
The price is relatively high on beds, but it can offer a good margin for online sellers since they are essential.  
Meanwhile, pet beds can also be targeted well by niche: orthopedic beds for health-conscious pet parents, stylish beds for modern owners, sci-fi beds for geeks, etc. 
Pet Toys
There are too many varieties of toys for all pets on the market, but that does not stop this category from being very popular. They are one of the best pet products for dropshipping because they are cheap and cute. 
Toys are available for dogs, cats, birds, hamsters, and good for all of them – for stimulation and health. 
Demand for pet toys is stable, but there are some preferences; some types of toys are getting more popularity – dog toys that combine different types of biting toys into one, called "multifunctional biting toys." Visually they are quite simple, but for dogs, these toys offer great adventures. 
These Multifunction biting toys are easy to promote on your dropshipping website as a better and interactive choice over traditional toys.
What's next?
When looking to the future of Pet supplies e-commerce,  it's obvious that convenience and ease of choice are the main trends that transform the sector. 
Over the last few months, it's obvious that online shopping has increased in every category. Some experts are sure that new users of this channel may stick with it because of convenience, ease of comparison, pricing, ongoing concern over COVID-19, or some other combination of reasons.
On the other hand, eCommerce platforms will also show some trends in promoting sustainable products and pets in coordination with the sustainability trends observed in every other sector. More and more sustainable brands are jumping on the online bandwagon, which is expected to offer more market growth and niching opportunities. 

Some FAQs to give
What is the pet industry?
The pet industry consists of the products (and services) that keep pets alive and comfortable. These include food, toys, training products, beds, cages, health care, etc.
What was the estimated global pet care market size in 2019?
The market size of pet care is valued at over USD 223 billion in 2019 and expects growth at a 5.9% CAGR.
How much do we spend on pets each year?
Counting pet-related expenses are tricky because many unpredicted costs can occur, no matter if you own a cat, dog, or hamster. 
According to data, the first year of owning a dog costs around $1,270, while owning a cat costs $1,070. Of course, food type plays a big role. Plus, medical expenses and the pet-owning cost will cause an additional $500 each year onwards. However, there are other expenses, like traveling with your pets (extra payment in the hotel, transportation cages…) or leaving them somewhere during the vacation.

How big is the pet food industry in the US?
The US pet food market is predicted to grow to $13.3 billion in 2023, at a compound annual growth rate of 5.3%. 
Why will the pet food sales surge through 2026?
The pet food segment may record a 5.3% CAGR through 2026, driven by pet owners' shifting inclination toward protein-rich pet diets to ensure that pets have increased muscle mass and body constitution.
What will push the demand for e-commerce as a distribution channel for pet care products & services?
Manufacturers started to build better online platforms for better shopping experiences, as online shopping popularity increased drastically for the past period. Thinking about e-commerce as a distribution channel is gaining much attention, as this segment held a 16.4% market share in 2019.
Which type of animal is likely to be at the forefront of the pet care market worldwide?
The dogs lead the segment with  41.7% revenue share in 2019 and a valuation of over USD 93 billion.
Where will pet care products and services gain extensive traction?
The pet care products will gain massive traction in the U.S., led by changing culture and attitude to pets and rising need for nutritionally rich pet food. The U.S. market held USD 95.8 billion in 2019.
Which country spends the most on its pets?
Obviously, it's the USA. 
The US spent more than $52bn on their furry family members in 2019. Of course, the main category where these dollars went was pet foods, but over $18bn was spent on pet supplies and accessories. If we look to other countries, no other comes close to splashing out as much as the USA on pet supplies ( Britain spent $93 per person last year, on average, while France – $87. 
Conclusion
Pet products were always going well with eCommerce, and lately, these relationships got even closer. Both general and niche retailers see profits, especially when selling popular and trending items like those on our list above. 
If you are willing to take a piece from this profit pie, be sure to always keep up with fast-changing trends in the Pet supplies industry. But don't forget to set competitive prices, as drop ship pet supplies products can be an aggressive niche. Ensure that you are getting the lowest prices possible from suppliers and consider all other costs, like shipping costs, fees, etc.