General Questions
Find the answers to all your drop shipping questions.
In order to export the catalog from your "Inventory", you first need to choose your wanted items from the catalog and click "add to inventory".
CSV file will be exported without items in your Inventory.
365DROPSHIP allows you to add high demand products from our extensive catalog to sell at your store, ship the orders directly to customers all over the world, and help increase your profits an excellent solution for people with existing stores anywhere online and those of you looking to break into the eCommerce market. We propose you to download products from the hundreds of bestselling products from a variety of niches with affordable prices to choose from our catalog. We have teamed up with some of the best suppliers worldwide in order to create an attractive line of products, thousands of products ranging from fashion, cosmetics, jewelry, Holy land's crafts, herbals, software, and more are offered for you directly on 365DROPSHIP. We at 365DROPSHIP believe that you are the key for our successful business so we offer you to earn up to 70% commission on each sale! The profit relates to the recommended retail price as mentioned in the dropship catalog.
Selling high demand products without actually stocking or drop shipping products.
Never worrying about an item not selling. You only pay for what you sell.
Access to the hottest name brand products from our huge inventory catalog to sell on your store.
Risk-free online business creation and management.
Focusing on the important stuff that you do best: Generating traffic and sales.
We have created an advanced filter system to help you focus on the items, prices, and shipping country you choose to add to your store.
this system provides a few filtering options for you:
1. shipping country- It would be easier for you to know what items are shipped where.
2. Price range- if you are looking for cheaper or expensive items.
3. Profit range- how much profit you want to make from selling this item. profit is changed according to the category options available.
4. Shipping cost- what is the low to high range of shipping prices you are willing to pay.
5. Avg. shipping time.
After choosing all filtering options, press FILTER.
you can choose to filter according to your needs in order to arrive at the best options for you.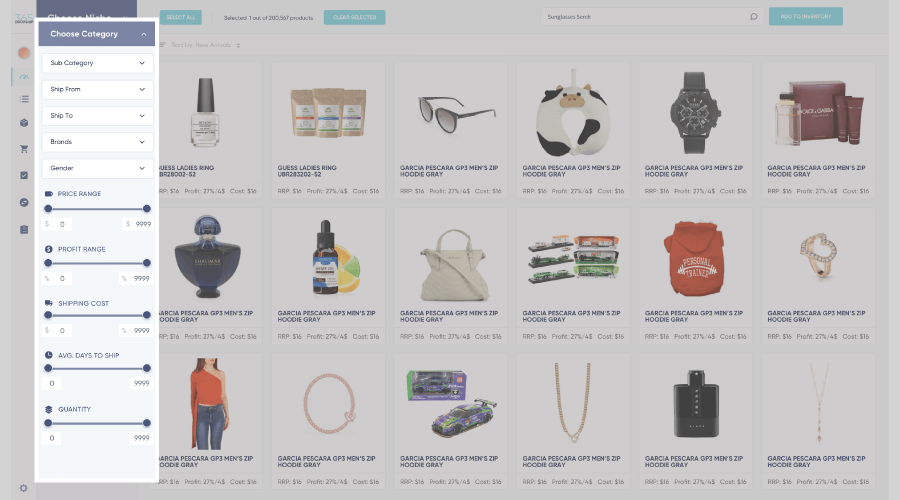 If you have a Shopify/ woocommerce store, you connect the store to your 365DROPSHIP account.
This connection is a quick way for you to sync between the catalog and your store is the fastest and easiest way.
in order to connect, here is what you need to do:
1. Go to the Store List icon on the left side of the screen.
2. Press Add remote store.
3. add all store details. choose the platform, add store URL, and store Title.
4. mark all Sync Option in order to receive all permissions.
5. Press Save.
6. after saving, a new line with your store information will be added to your account.No store verification is needed.
You can sync more than one store.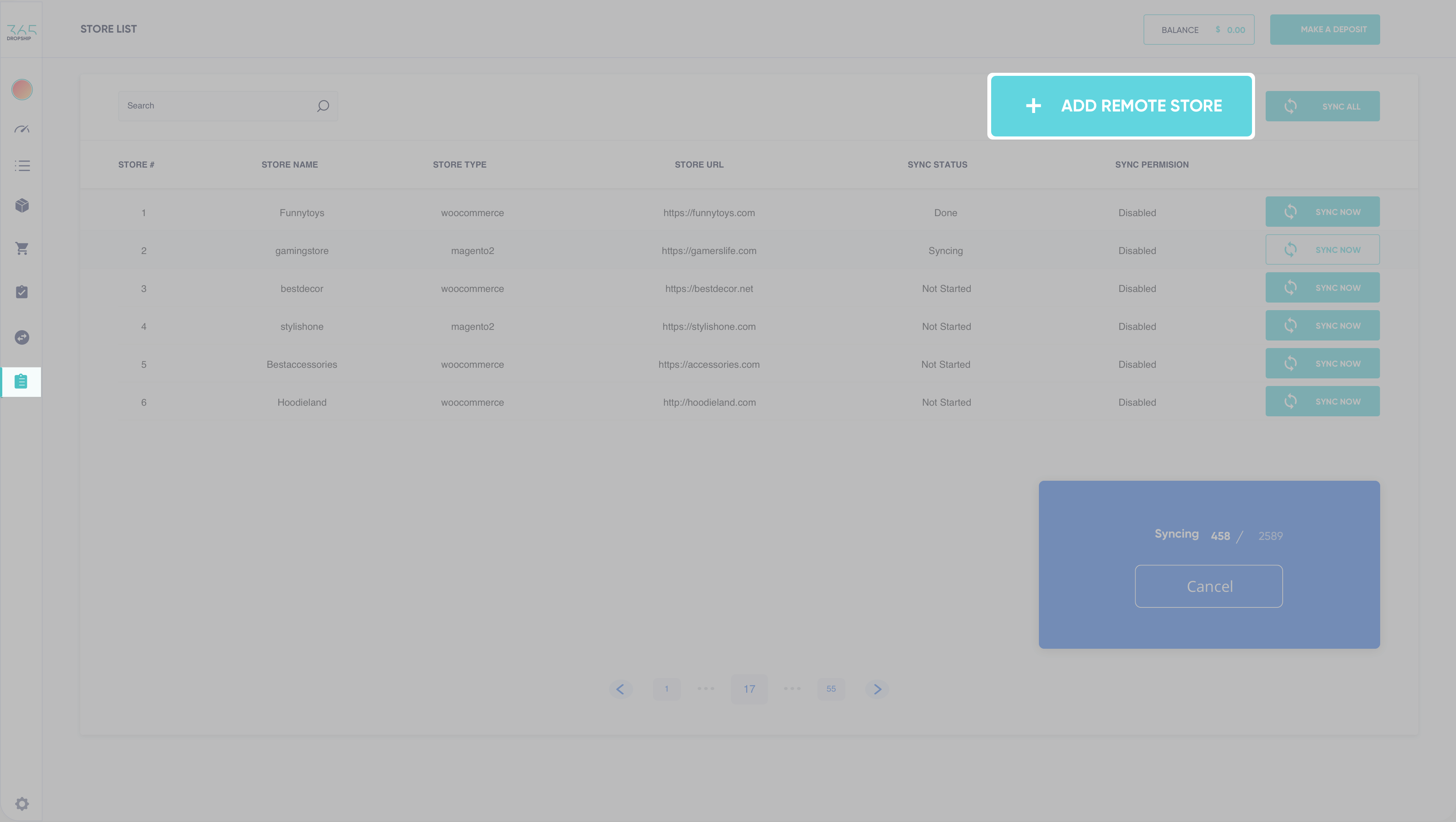 Your account Dashboard is showing you the general information on your activity.
what type of information is showing?
1. Orders- shows the number of orders you placed in your account.
2. Orders Sum- the total amount you paid on your orders.
3. Average Orders- The average amount of your monthly orders.
you can filter by months in order to understand your activity.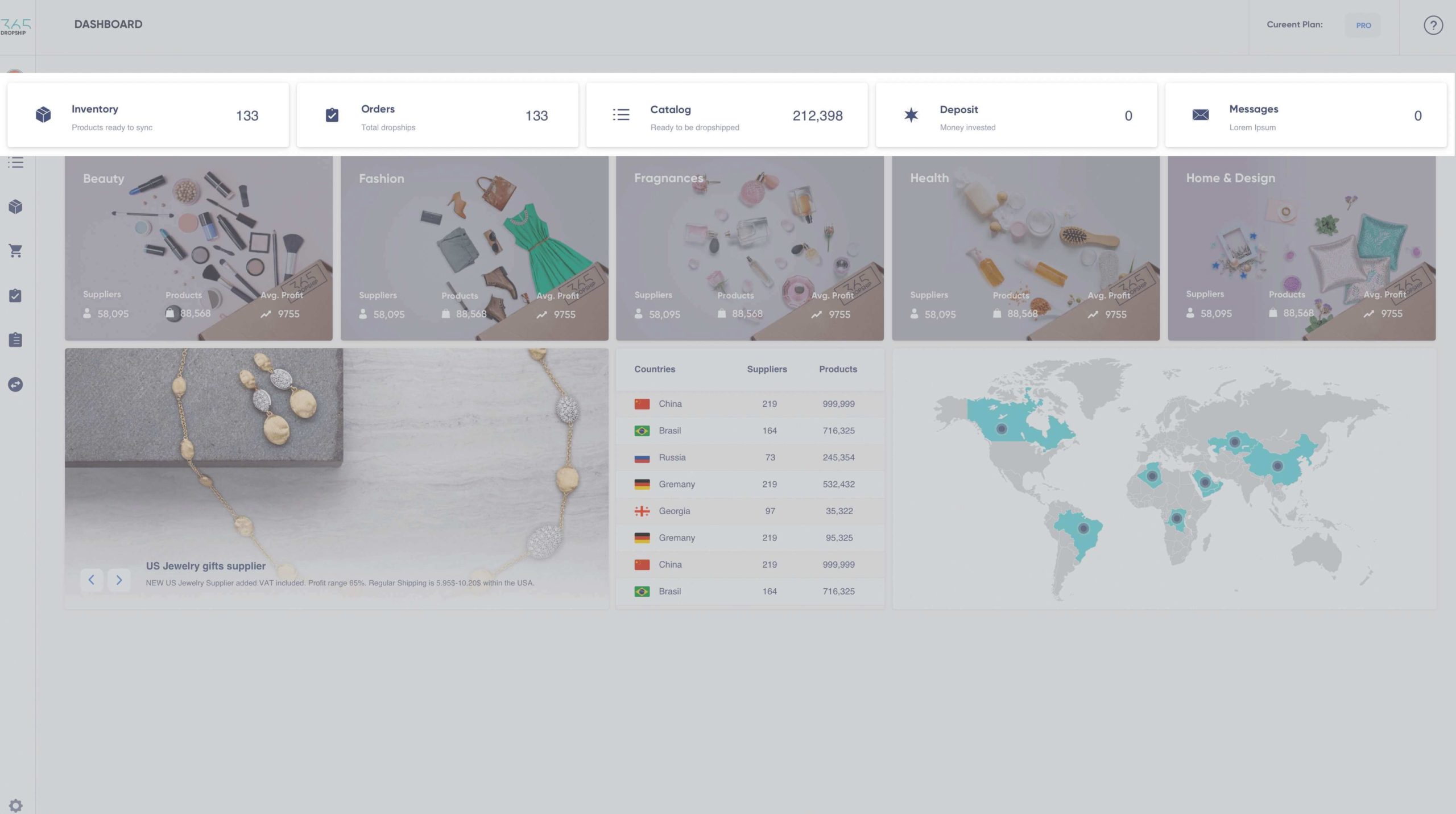 You can view all of the money transactions (Credit/Debit) on the Transactions section in your account.
In this section, you will be able to see the deposits you made and the orders you placed.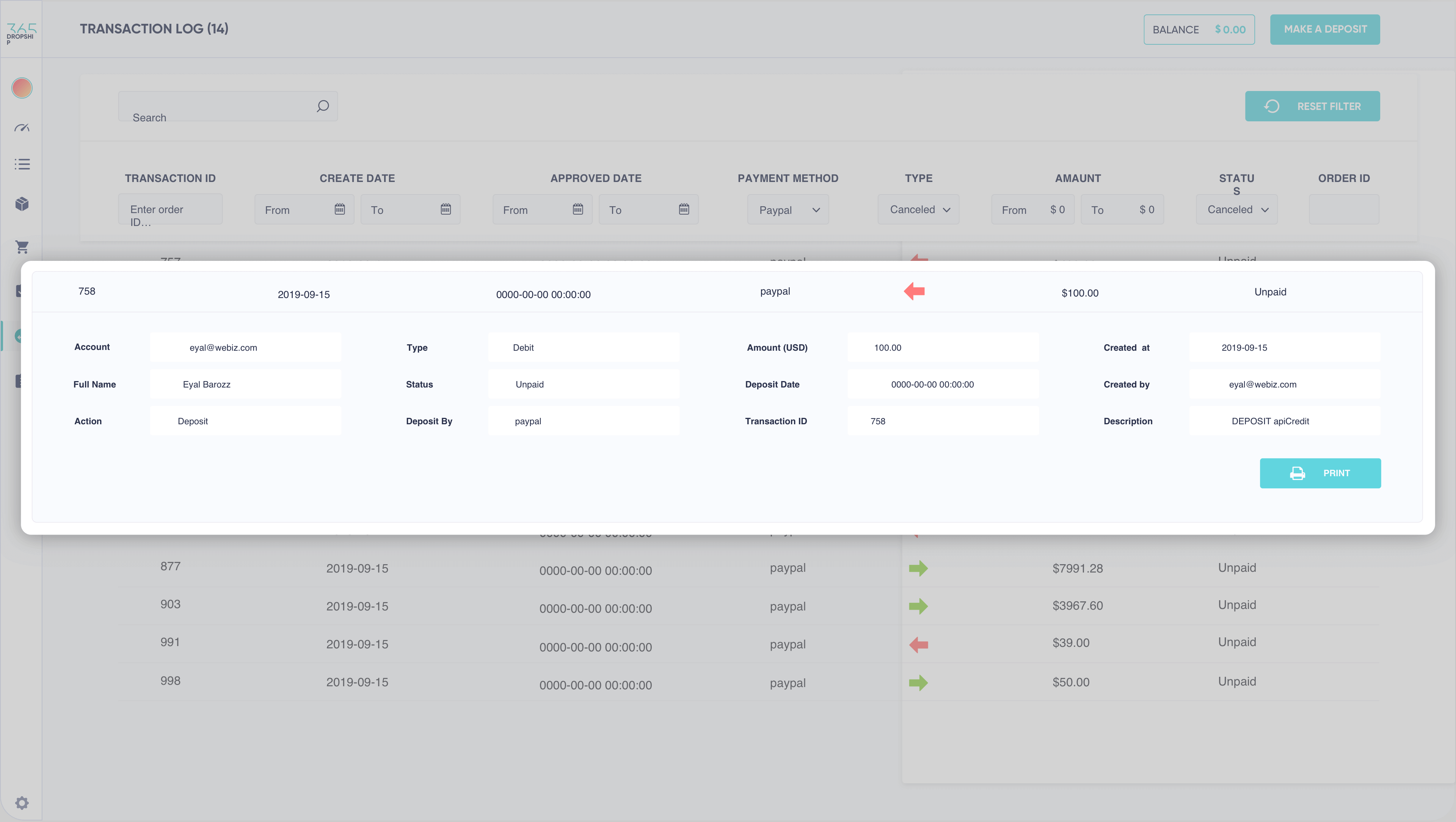 On the front Dashboard page, you are able to see the status of your balance. you can also make a deposit if you need to add money to your account.
you can also see Balance status in the transaction icon on the lest menu bar.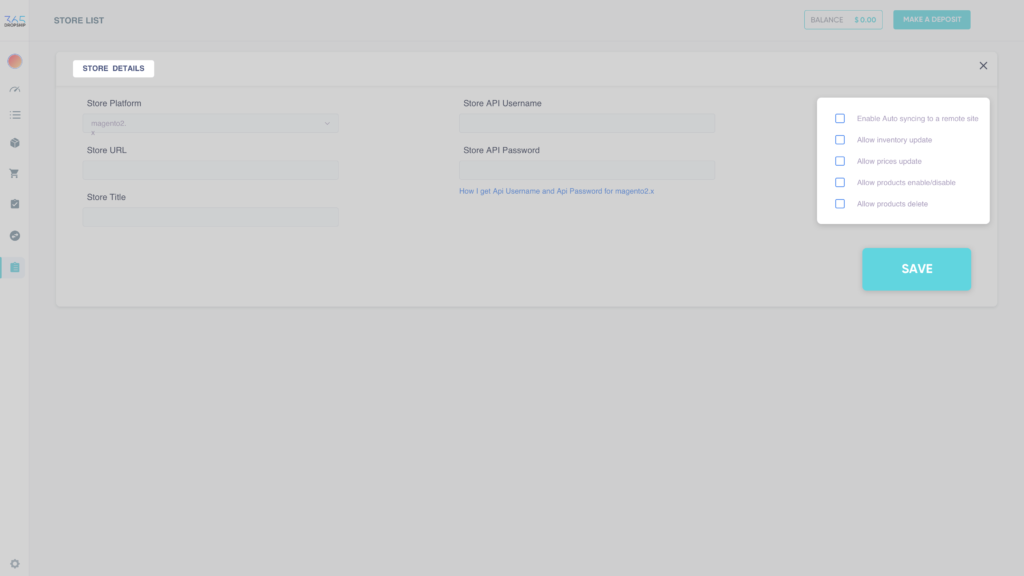 We receive payments for your orders via 3 payment options: PayPal, Credit Card, or Wire Transfer.
Your payments will be accepted only with US$ (you are free to sell these products to your customers in any currency that fit your business and customers)
We ask you to place a deposit of as low as your first order to get the start and allow you to buy your first orders (items).
365DROPSHIP specializes in dropshipping solutions. We take care of delivering the goods to your satisfied customer's doorstep! You have the ultimate control over providing your customer with customer care, offer processing & payment gateways, and contact your clients. Remember – You manage your business and we work for you! If your customers have questions regarding their order, product specs, shipping status, etc. you can direct their question to us at support@365dropship.com, or contacting us directly via the checkbox on our page.
365DROPSHIP indicates you a minimum selling price that cannot be changed and gives a recommendation for the retail price; it is the Recommended Retail Price. You can choose any price that is above the minimum. Though you can choose the selling price, make sure you are not too much above the market to remain competitive!
Once you register with us, you can overview our Terms & Conditions section along with the User Agreement during the sign-up process.
365DROPSHIP administrative interface and products catalog description & details are in English. You can translate, edit, or adjust the product description to other languages on your own website as long as you DO NOT change product specifications or offer any misleading data.
Definitely! 365DROPSHIP products can be promoted on any other platform, whether it's your own private website, store, or eCommerce platforms such as eBay and Amazon. You are free to use our products description, images, and specifications on these platforms. You can set your own prices to earn higher profits. If you wish to verify any specific product/s with us – you are more than welcome to contact us.
In your site you are free to sell our products in your preferred currency and promote our products with your chosen marketing methods, however, we accept your payments only with US$.
We monitor, adjust and update our products stocks and units on a daily bases, we also use safe levels in order to make sure products will be available
We add products each and every day so you can easily gain an advantage on the market by knowing that you have access to the latest products to hit the market. There is no limit to the number of products you can download from the catalog to your store.
NO. That is the best thing about 365DROPSHIP. You do not have to worry about warehousing the products, packaging & shipping, inventory management. All this is taken care of for you so you can focus on generating traffic to your store and selling the products.
Upon signing up with 365DROPSHIP – you will receive a password and code to log in to your own account; Logging into your account will enable you to control all your 365DROPSHIP activities from selecting products, changing the prices and content as well as all information related to the sales. On the Dashboard, you can follow your daily activity such as notices, the status of your orders, and fee issues.
365DROPSHIP provides you all the product specifications, images, descriptions, and features, you are free to use and present the information on your website. After browsing the dropship product catalog and choosing your desired products, you can export the products via your account "Inventory" tab. By clicking on the "Export Catalog" Button, a CSV/XML product file will be ready for you to use with all product specs and details according to the type you choose.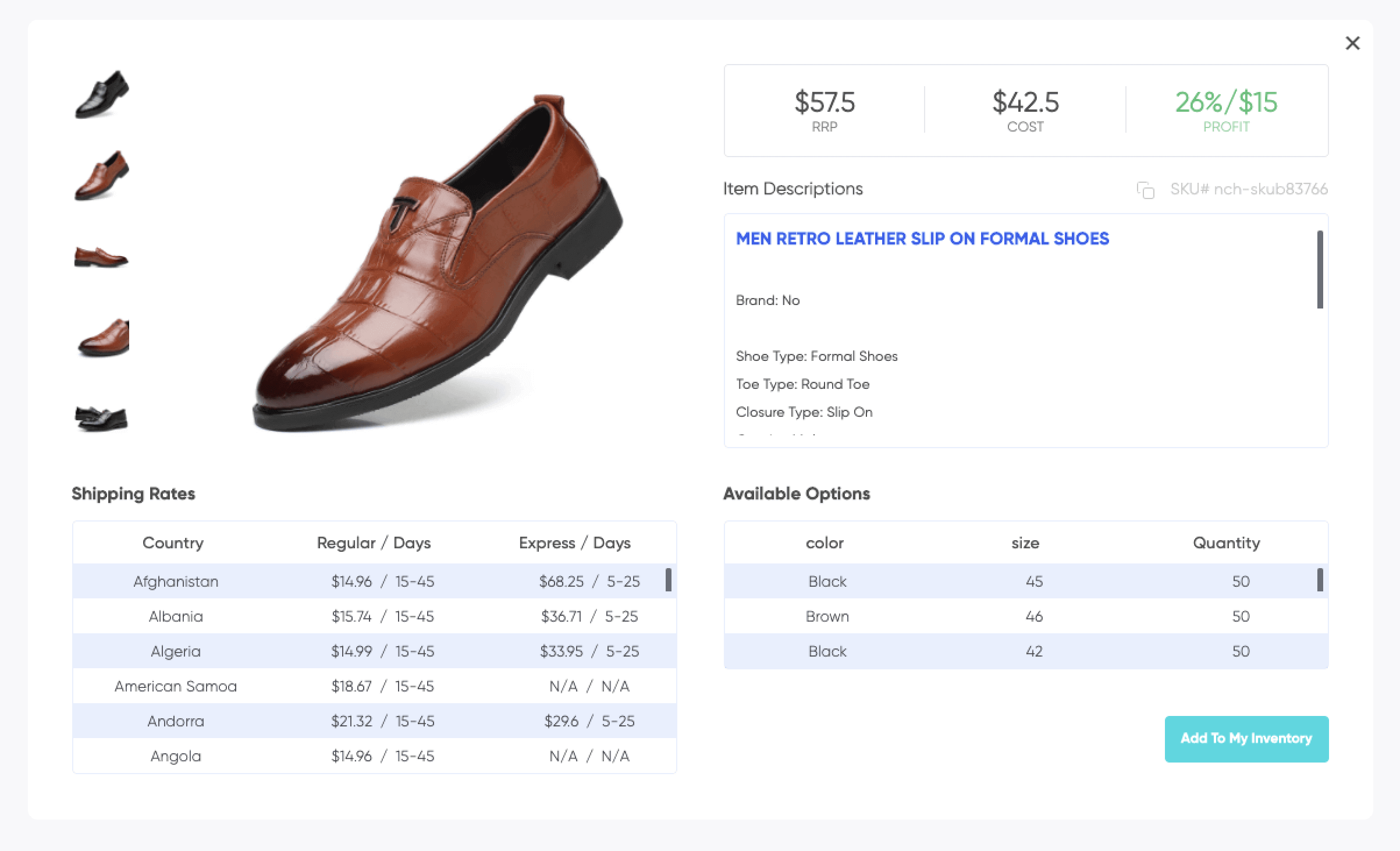 Sell high demand products on your online store


Choose from thousands of our catalog's high demand products from various niches such as jewelry, fashion, toys, cosmetics, software, lifestyle products, and much more.

List products as your own


365DROPSHIP gives you the product descriptions, images, and recommended selling prices for your online store. Set your margins and invite buyers. No minimum product orders from 365DROPSHIP or upfront payments for the listed products

Generate sales and collect payments


Sell 365DROPSHIP products on your site and get paid directly from your costumers.

365

DROPSHIP

 helps you earn up to 70% profit on your sales as you set your margins between your cost and selling price.
Upload sales to your 365DROPSHIP account
Simply upload all your orders using Excel, CSV, or API service. 365DROPSHIP suppliers receive your orders immediately and start filling the order.

We deliver directly to your customers


365dropship takes care of the shipping and handling on all your orders. You then track the orders through your 365DROPSHIP account
Choose one of our great plans we have designed to meet each and every business's needs.
No Hidden Fees
Risk-free online business creation and management.
You pay only for what your customers purchased and ordered
At the moment we do not provide private or white label logo branded packaging.
We have several logistic centers providing dropshipping services all over the globe. If you wish to receive specific details regarding specific product/s origin and logistic base – please contact us.
Our catalog contains thousands of products from various niches and brands. Packages will contain the key information required for delivery, customer details, shipping address, etc. Some Brands will arrive with their original brand logo name packaging.
If you wish to purchase bulk order or stock of any specific product/s we recommend you contact us and verify with us the specific amounts, costs, and quantities.
Drop Shipping Worldwide
Our product catalog contains many different niches and categories supplied worldwide. We generally dropship worldwide (though there might be exceptions depending on the customer's shipping address and chosen product). Please note: we have a huge product catalog, some products may be subject to limitations placed by the suppliers in terms of customer`s country customs or shipping exceptions – we recommend you to use our advance filter according to your shipping country in order to save you time.
Restricted countries information is available on the product`s page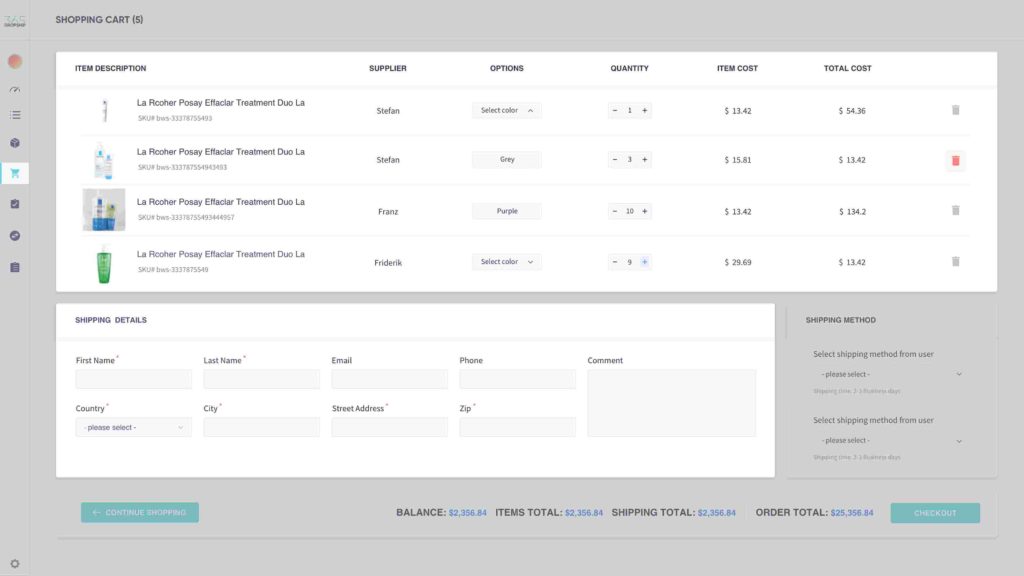 Order Fulfillment
Orders are usually packed and shipped within 48 hours. If for some reason the item(s) in your customer`s order is out of stock, or there`s any delay, we will contact you. If part of the order is in stock and part is out of stock, the customer will receive the "in stock" portion immediately, and the "out of stock" portion when it arrives. You will be updated all along the process by our customer support team.
The status of the order will be changed to "sent" on your dashboard once it has been shipped to your customer.
Shipping Price
365DROPSHIP offers shipping options in most locations throughout the world.
Regular (Standard) shipping means that the delivery time is between 7-21 business days after order fulfillment is completed. Please note that Saturday & Sunday deliveries are not available.
All shipping prices will be calculated in your cart, once you place an order.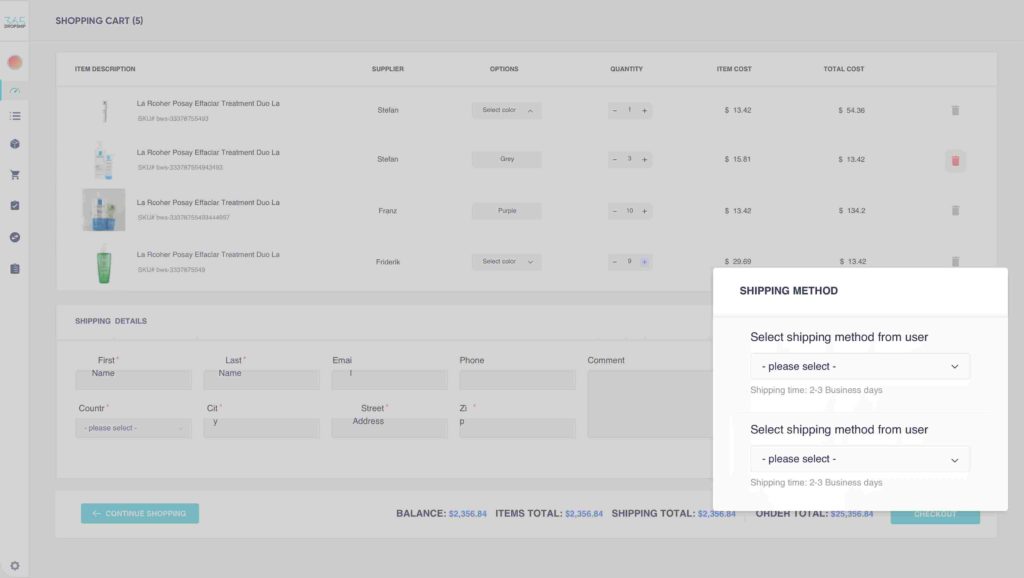 The total shipping price will be calculated per order:
The order of one item (SKU) will carry the item`s shipping price. Any additional item from the same (SKU) will carry an additional 50% of the shipping price.
Example: order of 2 Christian Dior sku=1234 will cost $5.99 +$ 2.99 = $8.99
365DROPSHIP is committed to preserving your customer's personal privacy. Our online ordering system is using the latest Secured Encryption Technologies and all personal information will be submitted using high levels of technical security (128 bit SSL) with all reasonable precautions.
Return of Products
1.1. The Customers are entitled to return Products that can be returned such as but not limited to Products manufactured based on personal orders for any reason within 14 days from receiving them, provided that the Customer shall (a) inform 365DROPSHIP service customer and (b) shall ship the Products back through the Supplied Party, all in their original packaging and with no harm.
Damaged Products
1.3. The Supplied Party shall notify 365DROPSHIP immediately following to a Customer's complaint regarding a Damaged Product.
365DROPSHIP shall reimburse the Supplied Party or replace any Product that arrived damaged or in bad condition to the Customer.
Regulations vary and it is, therefore, the responsibility of the customer to check the local related laws and regulations.
You may cancel the order provided the cancellation request is delivered before the order is shipped. The cancellation request shall be sent by e-mail to:support@365dropship.com
You can track the orders through your 365DROPSHIP account, we provide tracking numbers and basic order data via your account plus we provide tracking numbers to the end client (your customers) so the orders are traceable in real-time.
Once an order is placed on your store, log in to your 365DROPSHIP account, and add your items to the cart.
After adding items, you will be directed to the shopping cart. if you wish to add more items, press on continue shopping.
after you are done choosing and adding, go to the shopping cart and add your customer's details.
Please remember that each order will be shipped to one customer, so if you have multiple orders, you will need to do it one by one.
In order to pay for these orders, you will need to use your balance or place a deposit in your account.