You've been looking to start your own retail business. But right now, it's hard to see past the cost and inconvenience of developing and manufacturing products, monitoring an inventory, maintaining a warehouse, and dealing with a confusing shipping infrastructure. That's a fair concern.
Dropshipping can be a viable retail fulfillment option for you.
365Dropship explains what dropshipping is and why it's a popular option for those looking to start a retail business online and those who have existing shops.
What is Dropshipping?
Dropshipping is a business model that allows aspiring entrepreneurs to launch a business without having to invest a huge amount in inventory upfront. Instead, a dropship retailer can purchase its items as needed from a third-party supplier – usually a manufacturer or wholesaler — that then ships it directly to the buyer. This method does away with the huge capital and operational costs associated with a traditional business.
Dropshipping has recently gained popularity, especially among Gen Z-ers and millennials. With this business model, internet marketing skills matter more than financial capacity. As sellers don't need to stock on or handle goods, it's possible to start a dropshipping business even with limited funds.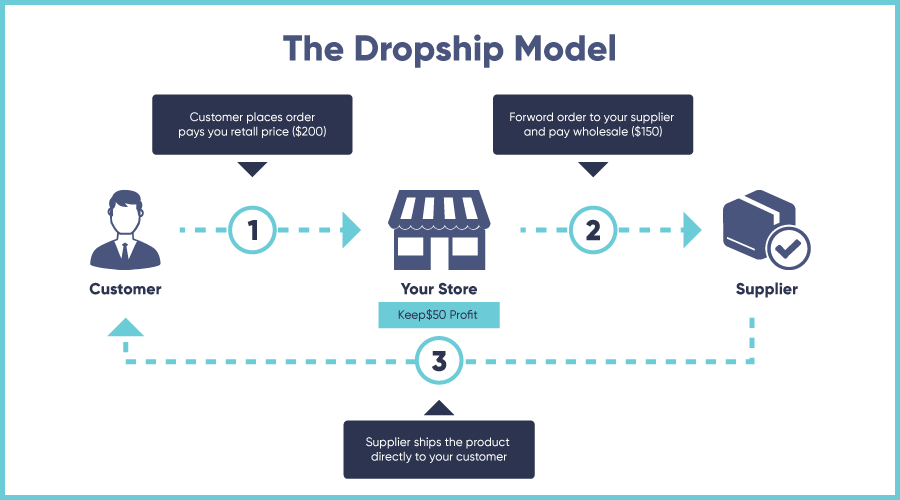 How Does Drop Shipping Work?
Dropshipping doesn't require a store or warehouse to stock products. For businesses, that means the ability to fulfill orders without having to handle or oversee the products they sell. You can sell brand-name products and trendy items on your website with a good profit margin, minus the work that's traditionally involved in product development and order fulfillment.
In order to start with dropshipping, the first thing you need to do is find a supplier for the items that you want to sell. Then, you can offer these items on your own eCommerce website for a higher price. Dropshipping eliminates problems associated with:
Managing  warehouse costs
Packing and shipping orders
Tracking and accounting of inventory
Handling inbound shipments and returns
Ordering products continuously to manage stock levels
You can run your dropshipping business from your home using a laptop, or just about anywhere, as long as you have an internet connection.  As you grow your business, these expenses are likely to increase, but will still be comparably lower than the costs associated with running traditional brick-and-mortar businesses.
Dropshipping allows quick scalability. When your supplier offers a new, in-demand item, you can simply list it on your e-commerce site with no additional cost. What's more, your supplier handles most of the work, from processing additional orders to shipping, so you can scale with fewer growing pains.

Before You Launch Dropshipping Business:
One downside to dropshipping, though, is having to compete with retail giants. As a startup with a limited budget, you can level the playing field by:
Choosing a niche.
Find a niche that you're genuinely interested in. You want a niche that's targeted and laser-focused, otherwise, you may find it difficult to market your products. If you're passionate about it, then you're more likely to feel motivated to work toward scaling your business.
Perform competitor research
Remember, your market will be saturated with other dropshipping businesses, retail giants included. Take some time to look at the products your competition offers: take note of their best sellers, as well as those that don't seem to farewell. Go for high-demand products with good profit margins.
Secure a supplier
Your choice of supplier can make or break your business, so take your time in choosing a supplier to work with.
Most dropshipping suppliers are located overseas, which means you will need due diligence when communicating, both in terms of understanding each other and responding promptly. If you don't feel a hundred percent confident about a potential supplier's communication abilities, move on to your next option.
Don't hesitate to ask questions, specifically about their production capabilities. In the event your business grows exponentially, you want to be sure your supplier can help you keep up with the demands.
Build an e-commerce website
The quickest way to launch your business is to use simple e-commerce or dropshipping platform such as Shopify. You don't need a tech background to set up your own website on these platforms. They also offer plenty of apps that can assist your marketing efforts and boost your sales.
At the start of your business, it's wiser to use one of those plug-and-play options. Once your business becomes established and revenue is coming in, you may start to allocate a sizable budget and hire web design and development professionals and explore custom options.
Create a customer acquisition plan
You already have in-demand products and a good-looking website, and these are all great. But without customers interested in what you offer, you don't have a business. There are various ways to attract potential customers, but one effective and easy option is to market on social media.
Social media advertising is free, letting you generate revenue right from the beginning. For a low fee, you can expose your social media ad to a highly targeted audience. This levels the playing field for you and your more established competitors.
It also pays to invest in search engine optimization and email marketing. These methods support your lead generation and conversion efforts when your business starts to grow.

Achieve Dropshipping Success
Maximize your dropshipping success with help from 365Dropship.  Regardless if you're a newcomer or a seasoned player, you will benefit from our complete suite of solutions that especially cater to the unique needs of US dropshippers.
Choosing 365Dropship as your dropshipping partner helps you:
Sell high-demand products, minus the cost and hassle associated with stocking or shipping
Pay only for what you sell – you don't have to worry about your items not selling
Get access to the most popular brands
Choose products from an extensive catalog
365Dropship takes care of all the hard work associated with dropshipping so you can focus on doing what you do best: generating leads and driving up sales.
Contact us to learn more about 365Dropship. Fill out our form today.